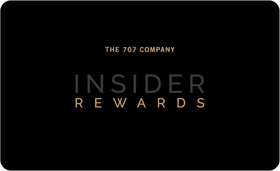 FREQUENTLY ASKED QUESTIONS
Inside Rewards is a membership program from The 707 Company, giving you privileged treatments, offers, and discounts, to improve your shopping experience.
To join the Insider Rewards membership program, please visit one of The 707 Company group stores and register.
Yes, The 707 Company takes the confidentiality and security of the personal information you share with us seriously.
To log in to your member account, please follow these easy steps :
• Sign in your account.
• Fill in the the mobile phone detail with the mobile number registered as a member.
• Please click here to open your Insider Rewards account.
To get the rewards point, please sign in your member account. Members can earn points by buying non-discounted products, with no minimum spend. Points will automatically be added to your account after purchase is processed.
Members can use their points for online transactions in the following ways:
• To check your balance & active period before redeeming your points please first click here.
• Members can determine the nominal points to be redeemed by filling in the fields provided.
Once the returned item is received and in our system, you will get back your point rewards applied to that purchase.
If your member account cannot be accessed, please first check your phone number details. This must be the same as the phone number that you used to register as a member. If that doesn't work please contact us and our customer service team will
help you.
You can not combine your point rewards redemption with any other promotions at this time.
If your membership has expired, please visit one of our The 707 Company stores and the staff will be happy to help you renew your membership.